2019 Athena Award for Continuing Education (ACE)
The Athena Award for Continuing Education (ACE) scholarship is available to women at least 25 years of age who live in Seneca, Yates or eastern-Ontario counties and are, or will be, enrolled in an educational program by September 30, 2019.
The educational program may be a formal college program or any certification/training program (including a GED) that is necessary for the applicant to advance in her career and pursue her career goal.
Click on the links below to download the Criteria & Eligibility, Application and Reference Cover Letter for use in submitting your 2019 scholarship application.
Determine if you qualify for the Athena Award for Continuing Education and contact us if you need help with your application.
Complete each section of the Application and provide additional materials as required.
Provide the attached reference Cover Letter and reference Form to individuals who can supply additional details regarding your qualifications.  The cover letter will help to explain the scholarship opportunity.  The form may be provided directly to us by the 3/31/19 due date.
Scholarships Can Help!
The Athena A.C.E. Association has awarded $4,500 to two recipients in each of the past 3 years.  Shown here are the 2017 award winners at the announcement reception.  To learn more about how this scholarship has help women throughout the Central Finger Lakes pursue their dreams, visit our Recipients page.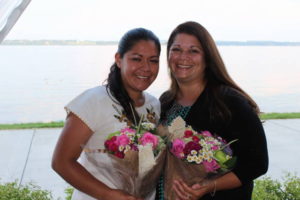 Questions…
Please email us with any questions regarding the application process and/or the status of your applications packet.
Email Us